"When I founded WebiMax in 2008, I wanted to start a company in the online marketing arena that leveraged cutting edge technology and innovation. At that time, the online marketing sector was reaching new levels, and Search Engine Optimization (SEO), Search Engine Marketing (SEM), social media and other services began playing major roles in marketing strategies. Leveraging my experience in entrepreneurship, small business startup, and leadership, I decided to start WebiMax. Since then, we have grown to become the fastest growing private company in New Jersey and the 37th fastest growing private organization in the United States as rated by Inc. Magazine's Inc. 500|5000 list for 2012.
Starting a business is all about innovation and leadership. Furthermore, starting and succeeding in small business requires constant evaluation; making challenging and oftentimes life-changing decisions and surrounding yourself with superior talent. At that time, the world needed a marketing firm that would act more as a strategic partner versus an outsourced vendor. Communications, transparency, quality and strategic direction are all components that went missing through the years as firms sacrificed quality and transparency for outsourcing and cheaper labor / services. I decided against that. Why would I start a business focused on quality and then pay someone else a small fee to provide these services?
WebiMax is a different kind of company and a company that has prospered and thrived through a challenging economic climate. Furthermore, WebiMax is the leader in digital marketing."
– Ken Wisnefski, Founder & CEO of WebiMax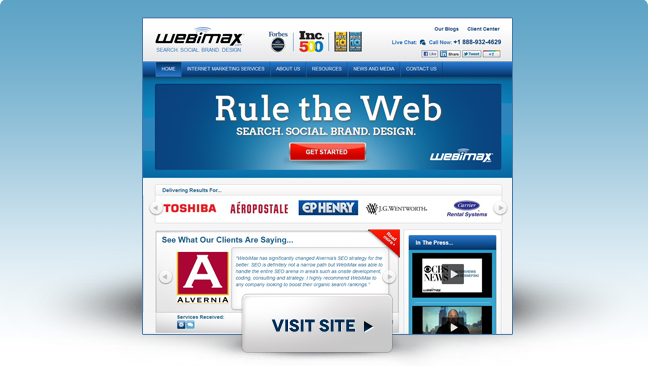 To learn more about how WebiMax's digital marketing initiatives can help to improve your site's rankings, traffic and revenue, visit www.WebiMax.com.