Ken Wisnefski, Founder & CEO of WebiMax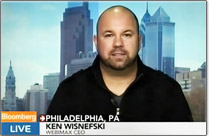 Ken Wisnefski is an internet entrepreneur currently on his 3rd successful startup. His previous ventures included VendorSeek.com and ImpactDirect while his latest business endeavor, WebiMax, was founded in 2008 and is successfully running to this day. An expert source in entrepreneurship, Ken is also a great resource for small businesses, internet marketing, social media, and reputation management. Under Ken's leadership, WebiMax has grown from a small startup with 4 employees in 2008 to 130 employees and $8.2 million in revenue in 2013. This growth helped land WebiMax on Inc. 500's list of fastest-growing companies 3 years in a row. WebiMax works with over 600 clients worldwide from individual and small business to large firms including Aeropostale, Carrier, Marriott, and Toshiba. 
Read more »
Recent TV Appearances
Ken Wisnefski's Small Business Startups Timeline:
2001 – CURRENT
nov
2004 impactdirect.com
Launched!
may
2008 VENDORSEEK.com
Sold!

2001
VENDORSEEK.com
Launched!
nov
2007 impactdirect.com
Sold !
July
2008 WEBIMAX.com
Launched!
Launched
VendorSeek.com
2001, sold in 2008
Led VendorSeek to acquisition in 2008 to
a public firm
Launched ImpactDirect.com
in 2004, sold 2007
Launched
WebiMax.com 2008,
currently founder / CEO