Brick and Mortar establishments, small ones included, are getting wise to the mobile revolution. Folks used to talk about ecommerce winning the war over brick and mortar due to its convenience, but companies are beginning to understand the dynamics between that ultra-convenience of mobile ecommerce, and the human need to get out of the house every then and again.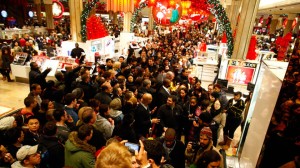 Tell me if this scenario sounds familiar:
You think of something to purchase, and subsequently two other things: 1. where you can get that item, and 2. if getting it fits into your schedule. You then decide to take a shopping trip and some-time later while in the store, you realize that you're not quite sure where the item is. After having trouble getting an associate's attention, you find where the item would be, but you realize the selection is meager compared to what you had in your head. After a little internal debate you decide to settle on a product only to then have to stand behind a line of other customers. After the cashier takes 10 minutes to resolve an issue with a customer 6 or 7 people ahead of you, it hits you: "Why am I doing this, why would anybody do this?" You take the item back to its former location (or not) and go home to get the item you really want online.
This scenario is why e-tailers have picked up so much steam over the past decade. When you think of how you can avoid all the pitfalls of on-location shopping with just a few clicks in amazon from the comfort of your home, it's hard to imagine precisely how the online e-commerce scenario could be improved upon exactly. But it's also hard to deny that for all its convenience, we sometimes miss going out and getting that item in person. Hence brick and mortar stores are starting to utilize mobile technology to attract new customers and come up with solutions to the problems that were previously frustrating their customers.
So how are they doing it?

Using ads based on Geo location is one example of how a company might use mobile to attract more foot traffic. This is when ads are pushed out within a given radius of a business. Sound complicated? Well Facebook made this exceedingly easy with an ad product dubbed, "Local Awareness Ads." Businesses can craft their own ad and then choose a radius around their business, e.g., 1 mile – 10 miles, around their address that will reach people within that radius through their Facebook News Feed.
Imagine you were shopping online for say a ceiling fan. You're online, so of course you go back and forth between your task and your Facebook newsfeed. When all of the sudden you see it, right there in your newsfeed – the exact fan you were looking for, and it's on sale just a 10 minute drive from your house. You could take care of this task right now. You could even purchase the item online with a few short clicks, then go and pick it up and have it installed in-time for the company you were going to have over this weekend. Why not?
Or…
Imagine you were looking at t-shirts online. You saw one in particular you liked, but decided not to buy it. Later in the week you are walking through the mall, you sit down on a bench for a minute to look at your phone. You look at your Facebook newsfeed when you see an ad for the very same shirt you were looking at earlier, and it's on sale at a store just 50 short feet from the bench you're sitting on. Why not?
Target is getting in on the act as well with a couple new features that they are rolling out on their mobile app, just in time for the holiday shopping blitz. One feature is the in-store inventory option, where not only can you browse the items that Target typically has, but you can also see if the Target near you actually has that item. Target is also implementing in-store maps that will direct you to the very isle where that product is located. Gone are the days of wandering around the store looking for an associate wondering if what you are looking for is even in stock.
From the delivery side of things, brick and mortar stores have something that strictly e-tailers do not, and that is locations and inventory nearer to where people live. We're seeing brick and mortar stores becoming more ingrained into the delivery game, and that is making for some interesting competition.
UBER seems to be throwing its hat in the ring to compete with the likes of Amazon and Google, both also have growing same day delivery services. The difference is that UBER has a fleet of cars and the infrastructure in house that could prove to be quite nimble and efficient – positioning them to forge ahead and grow into industries that they don't currently reside in.
Another service called Deliv is making people's lives easier in a number of ways. Using Deliv, customers can check out either on site at a physical location or online, the customer can then choose same day delivery and also a time window for which they want the packages delivered to their doorstep.
In Northern New Jersey, malls and shopping centers are offering same day delivery with Deliv free of charge through the holiday season. People can shop the mall without having to carry around heavy bags through stores and parking lots, rather they can just tell customer service what time they will be home and the merchandise will come straight to them – hands free.
While mobile technology and ecommerce has had a huge effect on the way today's businesses operate, it doesn't mean the end for brick and mortar, rather we are seeing a shift of brick and mortar stores using mobile technology to offer more concierge type services. There are so many angles to how mobile technology can make our lives easier that it can be difficult to predict just how businesses may innovate in the future. Industries are adapting to create new opportunities that are making our everyday experience smarter, better, more efficient and more fun.