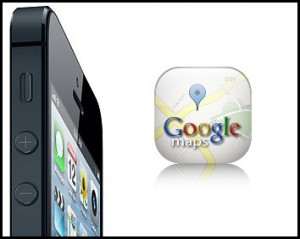 Since Apple first announced plans to develop its own proprietary mapping application earlier this year, Google Maps supporters were skeptical of Apple's ability to design a more accurate and effective global mapping solution.  Following the release of the iOS 6 mobile operating system in September, many Apple users expressed frustration with the new Maps application.  Within a matter of days, the backlash was evident in the press, as well.  Numerous technology review sites, blogs and even tech and business news outlets were discussing Apple Maps and its lackluster user experience.
Just one week after the software's release, Apple's CEO Tim Cook responded to the criticisms directed toward the Maps application with a public apology on Apple.com.  In the statement by Cook, he states:
"At Apple, we strive to make world-class products that deliver the best experience possible to our customers.  With the launch of our new Maps last week, we fell short on this commitment.  We are extremely sorry for the frustration this has caused our customers and we are doing everything we can to make Maps better."
The apology letter also acknowledges alternatives to Apple Maps, including top competitor, Google:
"While we're improving Maps, you can try alternatives by downloading map apps from the App Store like Bing, MapQuest and Waze, or use Google or Nokia maps by going to their websites and creating an icon on your home screen to their web app."
Although Google's mobile Web application is available on iOS 6, Apple lacked Google Maps software developed specifically for the new mobile operating system.   Recently, however, the overwhelming outcry for a Google alternative on iOS 6 has inspired the company (which currently dominates the online mapping software market in the U.S.) to create a Google Maps app for iOS 6-enabled Apple devices.
A representative from Google spoke to the Wall Street  Journal regarding the upcoming application:
"We believe Google Maps are the most comprehensive, accurate and easy-to-use maps in the world.  Our goal is to make Google Maps available to everyone who wants to use it, regardless of device, browser, or operating system."
With the extremely popular Google Maps poised to make its imminent debut in the App Store, Apple is now facing a possibly substantial loss of market share.  Going forward, Apple's mobile development team must strive to build a high-quality mapping solution with a strong focus on improved accuracy.
As Google begins its move toward iOS 6, mobile Web users will ultimately determine the fate of both Apple and Google's mapping software and play an instrumental role in the overall future of the digital mapping industry.
I'd like to hear your thoughts on Google and Apple's mapping software.  Direct your tweets on the topic to @KenWisnefski and I'll address them on Monday in my next blog post here on KenWisnefski.com.